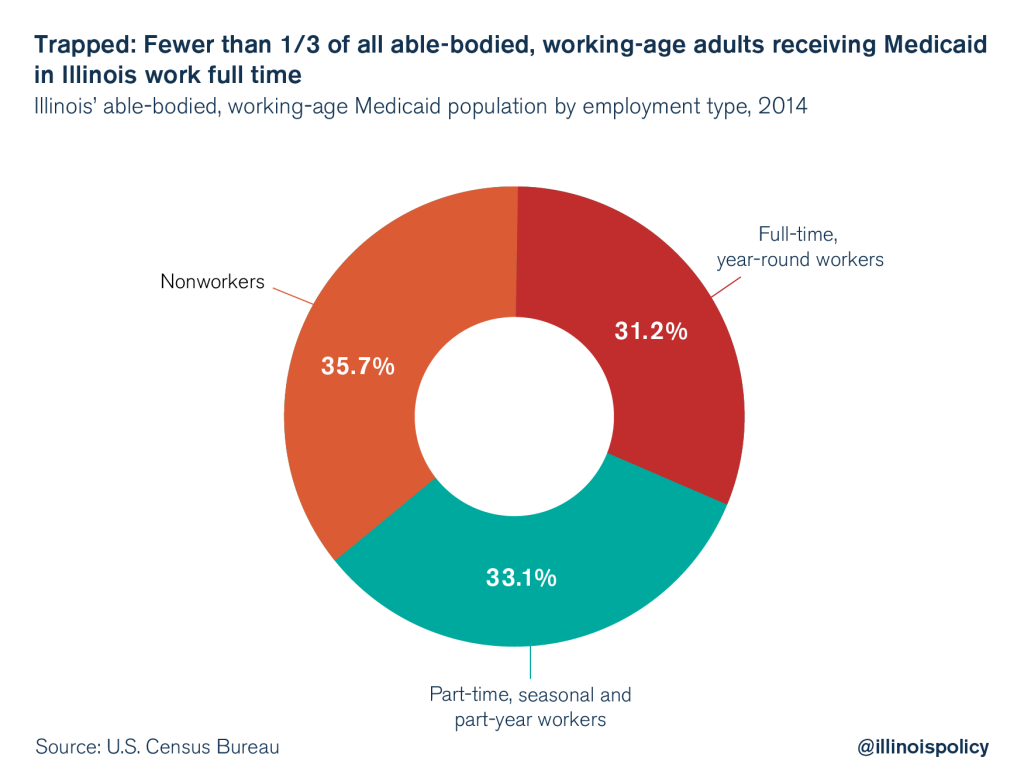 Policymakers in the Land of Lincoln have some important work to do this year to preserve limited state resources for the truly vulnerable. Stopping the enrollment of able-bodied adults in Illinois' Medicaid expansion program, and instituting work requirements for able-bodied adults in Medicaid are necessary to safeguard the program for Illinoisans most in need of services.
A Medicaid enrollment freeze waiver can preserve resources for truly needy Illinoisans
To stop Medicaid expansion enrollment, Illinois policymakers should ask the Trump administration for an enrollment freeze waiver. The program is devouring state tax dollars that could go to help Illinois' truly needy residents, including the 18,000-plus Illinoisans on Medicaid's Prioritization for Urgency of Need for Services waiting list. An enrollment freeze waiver would allow state officials to stop the hemorrhaging of Medicaid dollars and begin to immediately prioritize truly vulnerable Illinoisans once again.
Medicaid work requirements can prevent the safety net from becoming a poverty trap
But that's just the beginning of what Illinois officials must do to reform the state's overgrown and unsustainable Medicaid system. The state should also request a waiver to institute work requirements for all able-bodied adults in Medicaid. Medicaid's safety net has become a web that traps too many Illinoisans in dependency. But with the requirements in place, the truly vulnerable and taxpayers will find much-needed relief. Equally important, enrollees will be better able to transition to self-sufficiency.
Currently, Illinois' Medicaid program is operating as a welfare trap – a system that encourages individuals to remain in dependency indefinitely and penalizes them if they try to leave. There's perhaps no better proof of this phenomenon than the number of Illinoisans who are in the Medicaid program and not working at all.
According to the most recent data from the U.S. Census Bureau, less than one-third of all able-bodied, working-age Medicaid enrollees in Illinois work full time. By contrast, nearly 36 percent don't work at all.
In addition, according to data from the Department of Healthcare and Family Services, nearly 54 percent of able-bodied adult enrollees in the Medicaid expansion reported no income at all in 2015. Continue reading →